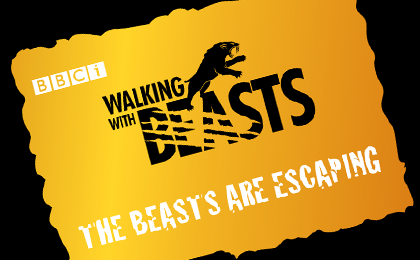 image
image
Click image to view Fullscreen Gallery [ 3 Screens ]
---
BBC Walking with Beasts
---
Brief : To promote the launch of Walking With Beasts, the sequel to the highly acclaimed Walking With Dinosaurs.
The aim was to create excitement around the ubiquitous 'Beasts' and deliver a fun game as a vehicle to learn about some of the beasts featured in the series. The target audience was skewed towards a younger age group of 10-16 year olds.
Overview : Working with a director programmer and a 3D modeller to build a 3D desktop BeastBox viewer. The 3D beasts themselves were released by means of a Flash maze-based game, all based around the central theme of 'Release the Beasts'.
In addition to the substantial online component of the campaign, a mobile TXT campaign was also devised and promoted via the website and delivered to mobile users - this was the first BBC campaign of its kind in 2001 as the BBC moved into new digital areas. The TXT Campaign set questions to subscribers via TXT and prize were given for the most correct answers and quickest responses.
Results : Over 80,000 people played the 'Release the Beasts' game during the 2 months the programme was aired - and over 12,000 downloaded the Beastbox. In 2002 the online part of the WWB Campaign was nominated for a Promax.
Credits : Creative Director
Awards : Won Silver for 'Best Online Promo' at the 2002 Promax Awards